One Insanely great custom handmade chef knife.

One Insanely great custom handmade chef knife.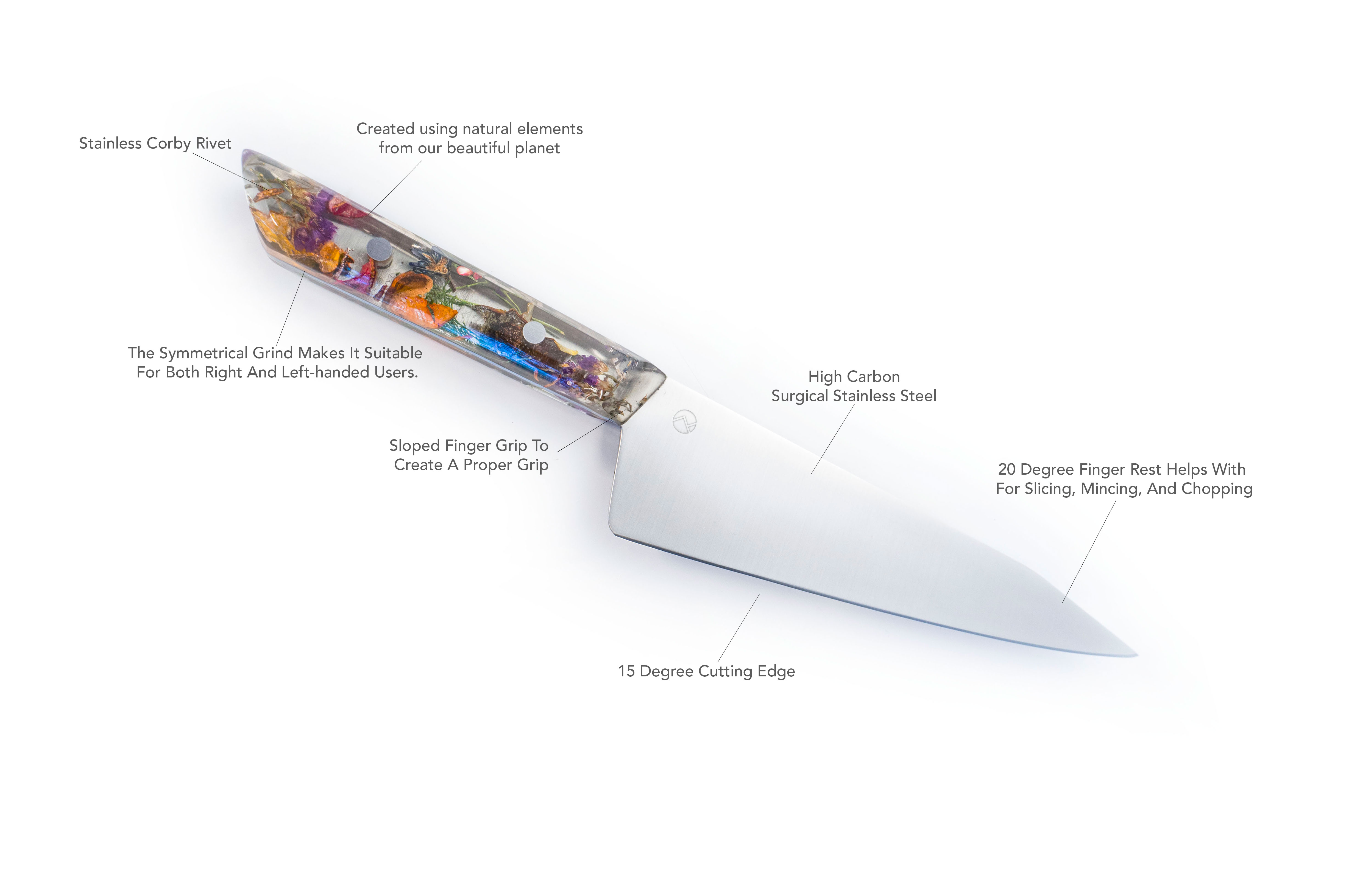 Design
AK Chef strives for perfection, and all our blades were created and designed by an American artisan to give you a unique kitchen experience. Each of our handcrafted high-quality blades is tested and approved by professional chefs and avid home cooks. Their input  has helped us to produce a better knife that meets and exceeds your kitchen needs.
The Blade
The IPPON is constructed from High Carbon surgical stainless steel 440-C to give you the best-performing edge available in kitchen cutlery. With a 58-59% Rockwell Hardness rating and a 60% higher carbon steel blade, IPPON has a great balance of sharpness which offers an exceptional cutting power, retention, and is also the more rust-resistant. The IPPON edges out all other mainstream "premium" knife brands.
Handle Material
These magical handles are created using natural elements from our beautiful planet, preserved in a hand poured and cured resin. Then shaped to perfection to create a looking glass into a mesmerizing journey of the Natural Galaxy. Each handle is carefully contoured to be structurally stable, designed with a sloped finger grip to create a secure grip in every condition.  The handles are designed with control, comfort, and durability in mind.  And, the 50/50 symmetrical grind makes it suitable for both right and left-handed users.
The Sharpness
The IPPON features a more precise and versatile blade that makes it a preferred all-purpose knife for slicing, mincing, and chopping.  The stainless steel is finished with an exceptional 15-degree angle to a thin edge, to provide you a sharper, longer-lasting, blade.  The IPPON is ideal for both short and longer strokes.
Maintenance Services
No matter how good the knife, it doesn't stay sharp forever. When it's time for sharpening as part of the lifetime maintenance program, we'll do it for free. We believe a sharp knife is a safe knife.
An Incredible Price
Combining the ability of suppliers and vendors, we bring you direct online sales of exceptional knives at an unbeatable price, bringing a great knife experience to individuals of all ability levels.

| | |
| --- | --- |
| Steel: | High Carbon surgical stainless steel 440-C |
| Rockwell Hardness: | 58-59 |
| Blade Width: | 2.0" |
| Thickness: | 0.097" |
| Blade Length: | 8.0" |
| Overall Length: | 13" |
| Grind: | Full Flat |
| Cutting Edge: | 15° |
| Blade Finish: | Satin |
| Handle Material: | Any material that mother nature provides |
| | |
BUY NOW